So been testing a faulty GPU, when computer is switched on the fans don't spin and it's not detected.
I tested the voltages at the points on the back of the board and they were all OK. So probed all the mosfet and they seemed OK.
So started taking ohm readings, found a few odd readings, so started retesting and when I was thinking all the mosfets are good. They are not lol
So I've found one that when the multi meter is in continuity mode it doesn't beep when i touch the signal pad, and my meter goes red and shows 31ohms.
The group of mosfets above the similar one is showing 18ohms
The gray thing is also showing beeping and showing 31ohms, again the one above is only 18.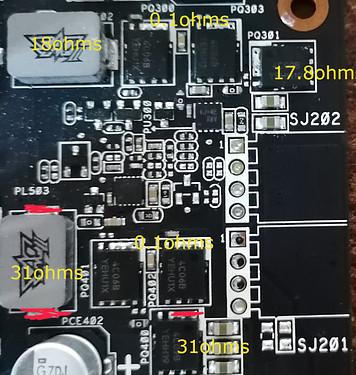 Should i remove the mosfet and re-read see if they change? Or should I test more stuff incase something else is causing the readings?