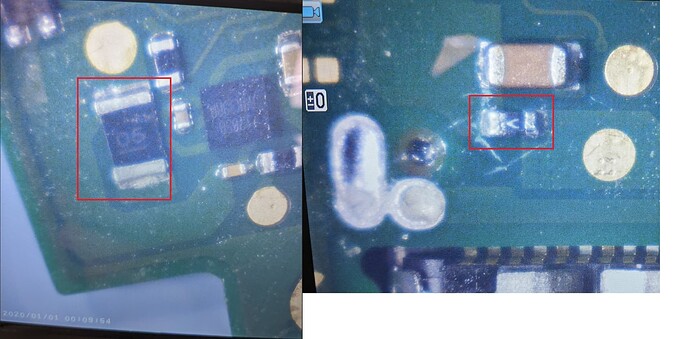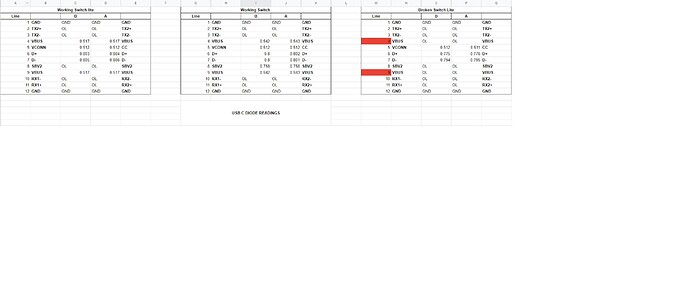 Well I have another switch lite on hand that is also demonstrating 15 v 0 amps. Switch boots and plays just fine with a charged battery. Is that SMD component with a V marking a fuse, and if so, is it the same on thats found on the full sized switch board (3.5A fast blow i believe)? This component has no continuity through it where it does on my "working" boards, bridging it with some tweezers and then doing a diode readings changes it from OL to .517 or so. My caveman logic here is telling me its a fuse, but id love if maybe someone with actual knowledge can confirm.
Also, the black SMD with the "05" marking (which is found on the far bottom left just adjacent to USB port), is this a fuse / bypass? Both sides short to ground and i get a .2 ohm reading in resistance mode. I'm getting similar readings on the good board as well, so I dont think there is an actual problem with it.
This leads to my final question, if indeed the first piece is a fuse then I'm left wondering exactly what could blow it? Are there any common culprits I can look at before I replace it? Generally fuses blow for a reason, but afaict there seems to be no issues elsewhere on the board. No shorting around m92 or bq chips, USB C breakout board does not show any lines shorted to one another, GND, or a voltage line. Besides the VBUS lines, diode readings on USB C seem fairly normal (im assuming SBV2 isn't used on the lite, I get OL on both lites but .758 on the switch), and when chip is bridged diode readings for that line match my working boards.
I'm being a little overly cautious here as this board is absolutely pristine and the less work I have to do on it the better (still learning!) and would rather not risk frying BGA IC's or anything that is irreplaceable. Thanks for any help!